Active Fusion Conference 2020
The Active Fusion Conference 2020 will focus on the power Physical Education has to improve mental and physical well-being.
Doncaster and locations across the UK are fighting against an epidemic of obesity and poor physical and mental health in the young. We want the Active Fusion Conference 2020 to bring together professionals in education to explore how we can inspire a healthier and happier generation together.
Delegates will be joined by a keynote speaker and industry experts, and they will hear from Active Fusion's director about the work being done to improve physical and mental health in young people.  Everyone will be invited to take part in a number of workshops delivered by Active Fusion staff, including practical advice about how to help children and young people become more physically active.
Meet Keynote Speaker Andy Grant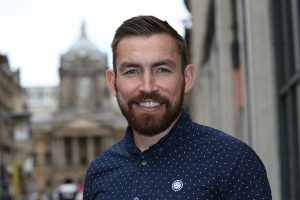 Andy Grant is a former Royal Marine Commando and author of "You'll Never Walk". After having his leg amputated following an explosion in Afghanistan, Andy refused to succumb to his injuries and reinvented himself as an athlete and motivational speaker. He has since competed in the Invictus Games, climbed the highest mountain in South America and is the fastest one-legged man over 10K. We can't wait to hear from his at the Active Fusion Conference 2020.
You can access the timetable of events here: Conference 2020 Timetable
Headteachers' breakfast meeting
We are delighted to be offering a headteachers' breakfast meeting this year.
Starting at 7:45am and ending at 9:15, the breakfast meeting will feature 3 mini keynotes on the topics of efficiency, workforce and health and wellbeing.
We hope the breakfast meeting will offer a solution to headteachers passionate about driving forward Physical Education and activity, whilst not taking too much time which needs to be spent at school. Headteachers are welcome to attend only the breakfast meeting or the whole event. If you would please state in the "additional notes" section of the booking form your intended arrival and departure time it would be most appreciated.
Please contact lindsy@activefusion.org.uk for more information about the breakfast meeting or take a look at the more detailed timetable of the
*please note that the first workshop has changed to:
1% Daily
The inspirational 'Ted X' speaker will inspire, motivate and explain how you can move from where you are now to where you want to be by the concept of 1% daily
Businesses
If you are attending on behalf of a business please state in the "additional notes" section on the booking form that you are attending the business workshops 9am – 11:30am.
School Games Workshop
Adam Fuller (Regional School Games Organiser) will also be running a School Games workshop from 8:15- 9:15 which attendees of the day are welcome to be involved in. Adam will be providing an interactive workshop covering updates from the School Games nationally. No additional booking is required for this workshop PE leaders will be reminded via email to arrive earlier if they require this workshop.
Here's what delegates had to say about last year's conference
"There was a flow to the day and it was very well organised."
"I felt motivated and inspired by the speakers and workshops."
"The guest speaker was excellent and I enjoyed the range of companies and initiatives that were here to share what they can offer us at school."
"Fun, informative and friendly – overall, a fantastic event!"
Booking
To attend the conference, it is £60 per school staff and £85 for others working in the educational sector outside of school.
ONLINE BOOKING HAS NOW CLOSED –
THERE ARE STILL A FEW PLACES REMAINING PLEASE CONTACT JONNY DIRECTLY:
jonny@activefusion.org.uk