School and Family Support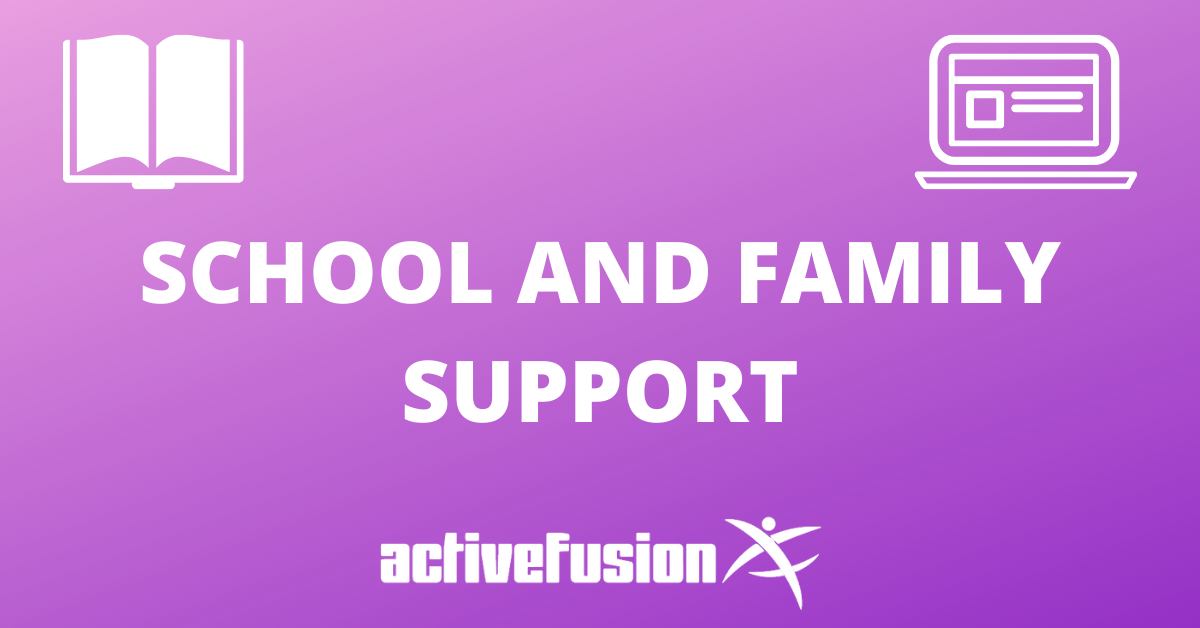 As we continue to deal with the COVID-19 outbreak and in response to the latest trends, we have made the decision to commit our time to bringing our coaching and physical education knowledge to homes across Doncaster, South Yorkshire and beyond.
Alongside our daily challenges and tips, we have pulled together a wide range of activities and programmes for both children and parents/guardians that will promote healthy, active living.
Please also follow our social media channels, where you try your skills at a daily challenge from our staff
Follow our social media channels to get involved.
Active Fusion Daily Challenges
Each day at 2pm, we will be bringing to our digital channels new, innovative ways to keep children, adults and families active from the comfort of the home.
Head, shoulders, knees… Phone? 🤔

➡️ Grab objects from your home
➡️ Place in a line
➡️ Grab an opponent
➡️ Test your reaction times

Watch our coaches demonstrate (📽️👇)

Who will react quicker? pic.twitter.com/WnvNYUZQ4n

— Active Fusion (@Active_Fusion) March 23, 2020
No @premierleague? No @EFL? No problem!⚽️

➡️ Grab a ball and cones (or pans, socks, pegs)
➡️ Create a goal (plant pots, chairs, coats)
➡️ Create a mini obstacle course
➡️ Let your child improve his dribbling, accuracy and shooting in time for football's return!👍

— Active Fusion (@Active_Fusion) March 24, 2020
Having good mental health helps us relax more, achieve more and enjoy our lives more. We have expert advice and practical tips to help you look after your mental health and wellbeing.
BBC Bitesize – How to keep a healthy mind
Your mind is like any other part of your body – you need to look after it and keep it healthy. But knowing how to keep a healthy mind might not be as obvious as doing the same for the rest of your body.
NHS – 8 tips for healthy eating
The key to a healthy diet is to eat the right amount of calories for how active you are so you balance the energy you consume with the energy you use. If you eat or drink more than your body needs, you'll put on weight because the energy you do not use is stored as fat. If you eat and drink too little, you'll lose weight.You should also eat a wide range of foods to make sure you're getting a balanced diet and your body is receiving all the nutrients it needs.
Raising Resilience – Sports Leaders
Sports Leaders specialise in helping preparatory and primary schools promote pupil's emotional resilience and well-being through fun and interactive workshops for pupils, parents and staff.
Looking for things to do at home with the kids? Ways to home educate and enjoy the time at home with your children? Doncaster Mumbler have lots of inspiration in their blogs and also useful links to great resources.
This Girl Can celebrates active women who are doing their thing no matter how they do it, how they look or even how sweaty they get.
This Girl Can seeks to tell the real stories of women who get active or play sport in the way that's right for them using images that show what activity really looks like in all its sweaty, red-faced, jiggly glory.
inspire+ fitness videos are a fantastic way to keep active, whilst in schools, with your friends and family at home. The videos show viewers how to do the exercises at different levels varied abilities.
We have been busy today recording fitness videos & challenges ready to release over the coming weeks for children & families to do at home! Please share this & follow inspire+ to join in the fun #HealthyHappyActive #covid19UK @GranthamJournal @Mercury1712 @southkesteven pic.twitter.com/Vd1TwbWPpb

— inspire+ (@inspire_plus) March 18, 2020
With the schools closed and with us all spending more time at home, it's more important than ever that we keep moving and stay healthy and positive. Exercise is an amazing tool to help us feel happier, more energised, and more optimistic. The workouts will be fun and suitable for all ages and even adults can get involved.
You don't need any equipment, just tune in to his YouTube channel at 9am each morning for a 30-minute, fun workout.
😀 PE WITH JOE starting Monday morning at 9am on my YOUTUBE channel: The Body Coach TV 📺 Please please share this with as many people as you can ❤️ Our kids need this more than ever. Share it on your stories, your wall, your Twitter, whatsapp and school newsletters ❤️ pic.twitter.com/ioFGeFRpuK

— The Body Coach (@thebodycoach) March 19, 2020
Kids need to be active for 60 minutes a day. From our fun 10 Minute Shake Up games to information about active hobbies and sports, here's everything you need to get your family moving.
Sport England – How to stay active while you're at home
To help Sport England have compiled into one place some of the handiest exercise ideas that are out there for keeping active in and around your home.
Supercharge your children's play and learning. It's the app that gets your playing outside! Try a challenge, earn points & badges, and customise your in-app experience with Kicker. There are 100s of active and creative challenges to get your kids active. Whether your child is new to football or plays for a club, there are different levels making it easy to get involved.
The app is FREE to download and there are no in-app purchases. In addition, it's a private network, so there's no social sharing to safeguard your children.
Super Movers Day celebrates active schools and empowers pupils to take the lead to get their peers moving.
See some of our bespoke resources in an exciting new 20-minute active learning programme designed to be used at school or at home.
Premier League Primary Stars – For Families
The Premier League have a wide collection of free, curriculum-linked activities to educate and entertain children at home. You can find lots of ideas for helping your children get active, as well as fun videos, games and worksheets for Maths, English and Health and Wellbeing.
Riding a bike gives you a great sense of freedom – and we think every child in Britain should have the chance to learn. That's why we created HSBC UK Ready Set Ride, with free, quick and easy games to help you teach your child how to pedal – having lots of fun along the way.
Kids can start at any age and there is no pressure to start pedalling on your first go. In fact, you don't need a bike or any cycling knowledge to get started. Plus, we have lots of helpful information about bikes, knowing when your child is ready to ride and how you can use household items to play any of the games in your own home.
25 Exercise Games and Indoor Activities to Get Kids Moving
We've put together a list of 25 easy indoor exercise ideas to do with kids at home. It's a really simple way for a family to integrate movement and exercise into any day. Most of these can be done right in your living room and will even work in tight city apartments (or hallways). We promise everyone will be tired and laughing after attempting just a handful.
15 ways to keep kids active indoors (even if you don't have much space)
Today's Parent is Canada's #1 source for parenting content that informs, inspires and builds a sense of community. We help parents celebrate the happy chaos that comes with having a family and remind them that they are not alone. If you have children from birth to ages 9+, you'll get insightful information for all ages and stages on discipline, health, behaviour, education, plus easy and nutritious recipes and so much more.